Western Sussex Hospitals NHS Trust
There are various types of fertility treatments and the contact telephone number and address for Western Sussex Hospitals NHS Trust, can be found below.
If you would like to find out if you are suitable for fertility treatment or information about a particular procedure or treatment, contact a local clinic.
Western Sussex Hospitals NHS Trust
Western Sussex Hospitals NHS Trust
St. Richards Hospital
Spitalfield Lane
Chichester
W. Sussex
UK
PO19 6SE
Tel: 01243 788122
Clinic details: St Richard's Hospital can be found in the cathedral city of Chichester, and provides a number of investigative procedures and artificial insemination for private and NHS patients of all ages. The main form of assisted conception offered at the hospital is IUI (intrauterine insemination), an effective and popular treatment option that has been used to great success across the world. The hospital offers a number of different investigative options that allow doctors to work out how treat you. Sperm assessment is performed to determine the quality of a male partner's sperm. Monitoring of ovulation is performed to observe the female cycle and note any irregularities or issues in that. Tubal surgery is available for women who suffer from damage or blockage of the fallopian tubes, which can often occur as a consequence of a pelvic inflammation or the use of IUD contraceptives.
Fertility treatment at this clinic: St Richard's Hospital comes under the banner of the Western Sussex Hospitals NHS Trust alongside two other hospitals which form the trust. St Richard's Hospital has in fact only recently been acquired by Western Sussex Hospitals, and is a 430 bed acute hospital that provides specialist care in areas like intensive care, accident and emergency, and maternity. An NHS Treatment Centre can be found on the hospital's site in a purpose built setting to deliver day surgeries and short stay procedures, as well as diagnostic facilities when arranged in advance. The hospital actually services a remarkably large area of about 400 square miles, which includes Littlehampton, Chichester Harbour, and many other areas in the area as far as parts of East Hampshire. The hospital itself dates back to about 1938-39 and originally only had 194 beds. After the second world war many of the structures the hospital has today were built to house a new accident and emergency department amongst many others. The hospital continued to grow, and in fact continues to do so, and first achieved the rank of NHS Trust in 1994. The hospital's first triplets from artificial insemination were born in 1996, a big milestone for its fertility department which has gone from strength to strength over the years. While St Richard's was originally a trust, in 2008 it merged with other local Trusts to form the Western Sussex Hospitals NHS Trust, allowing for many of the expert care provisions originally housed at St Richards to be brought forward into other nearby Trusts working under one umbrella.
Services offered at this clinic: Private and NHS patients treated, artificial insemination (stimulated and unstimulated intrauterine insemination), open evening at the clinic, patient support groups and counsellors, translator services, sperm washing, ovulation cycle monitoring, post-coital test, sperm assessment, induction of ovulation, tubal surgery, patients with Hepatitis B treated
---
FERTILITY INFORMATION
UK HEALTH CENTRES
SELECT A LOCATION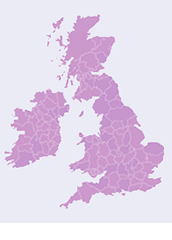 UK Health Centre