Women's Unit
There are various types of fertility treatments and the contact telephone number and address for Women's Unit, can be found below.
If you would like to find out if you are suitable for fertility treatment or information about a particular procedure or treatment, contact a local clinic.
Women's Unit
Women's Unit
Cwm Taff NHS Trust
Royal Glamorgan Hospital
Ynysmaerdy
Llantrisant
Rhondda Cynon Taff
UK
CF72 8XR
Tel: 01443 443525
Clinic details: The primary treatment on offer at The Women's Unit CWM Taff NHS Trust is the tried and tested intrauterine insemination technique. The method is offered as a solution to women of any age with a body mass index under 30 who can benefit from artificial insemination. The local primary care trust places a limit of 3 cycles of IUI. On top of its insemination offering, the unit also provides patients with a skilled dedicated counsellor and fertility treatments to encourage ovulation. Tubal surgery can be performed to clear damaged or blocked fallopian tubes, which can often be a source of infertility for women of all ages.
Fertility treatment at this clinic: The Cwm Taff Trust has only been in operation since 2009, and since then has assumed the responsibility of caring for a population of over 325,000 men, women, and children in the Rhondda Cynon Taff and Merthyr Tydfil areas. The Women's Unit at the trust is responsible for the delivery of care to women in need of emotional or medical support in areas like gynaecology and fertility. A third of reported cases of infertility can trace their roots to a cause in the female tract, meaning that a specialist service like that at The Women's Unit is in fact able to provide more focussed assistance to women who come in after having struggled to conceive for many years. The unit holds a license from the government body responsible for ensuring quality of care in the field of fertility, the HFEA Human Fertilisation and Embryology Authority.
Services offered at this clinic: Tubal surgery, induction of ovulation, intrauterine insemination, counsellor, monitoring of ovulation, private patients treated
---
FERTILITY INFORMATION
UK HEALTH CENTRES
SELECT A LOCATION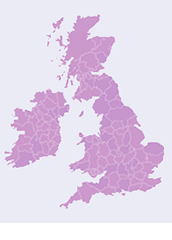 UK Health Centre