Fertility Clinics in Derby
If you are considering fertility treatment because you have struggled to conceive or you or your partner are infertile, or if you are a same sex couple wanting to have a baby, there are a number of options available through the NHS and/or through private funding at fertility clinics in Derby.
If you would like to book a consultation (many clinics offer free initial consultations) to discuss your ferility treatment options at a clinic in Derby, contact the clinic direct. Treatment options include:
Gamete Intra-Fallopian Transfer (GIFT)
In vitro maturation (IVM)
Surrogacy
Surgery
Please also contact us if you would like further information about egg donation/edd donors or sperm donation/sperm donors.
Fertility Clinics Derby
Uttoxeter Road
Derby
UK
DE22 3NE
Tel: 01332 340131
The Royal Derby Hospital's Fertility Unit can provide a number of different diagnostic and treatment services for its patients. Derby itself can be found on the River Derwent in the East Midlands, where it acts as one of the regions larger and busier cities. Because of its location more or less right in the middle of the country, Derby is run through with various different transport routes and is easily accessed from virtually any part of the UK. The city has been built under a confluence of different cultural influences, and as such bears the mark of different cultures like that of the Vikings, Romans, and Saxons. The Royal Derby Hospital's Fertility Unit treats self- and NHS funded patient. NHS funded patients must be under a BMI of 30 if women, and under 35 if men, an important stipulation because of the effect of obesity on fertility. The number of treatment cycles available to NHS patients is limited by the local funding body, the primary care trust (PCT), which at The Royal Derby limits treatments to 6 cycles of intrauterine insemination (IUI). IUI is the key infertility treatment offering at the hospital, and is provided with both donor and partner sperm, depending on your particular situation. The method has many distinct advantages, particularly because of its cost effectiveness and success in achieving pregnancy. At The Royal Derby Fertility Unit both donor and partner insemination can be performed after a cycle of fertility drug treatments. Such a practice is applied in many instances to improve the chances of conception, and is particularly useful where female ovulation is disrupted for instance. The HFEA, a government body which licenses and reports on the performance of fertility clinics and centres like the one at The Royal Derby, has reported that in 2009 the unit performed 296 partner intrauterine insemination cycles as well as 2 donor insemination cycles. The HFEA reports that pregnancy rates from these treatments are in line with national averages. On top of this treatment patient support groups and counselling sessions are provided for your benefit during what is a difficult time for anyone. Sperm assessments, ovulation cycle monitoring, and sperm assessment are investigative methods employed by the unit to establish the cause of infertility. Finally a surgical option for women suffering from infertility because of an obstruction in their fallopian tubes is provided through tubal surgeries performed by consultants in a professionally advanced setting.
---
FERTILITY INFORMATION
UK HEALTH CENTRES
SELECT A LOCATION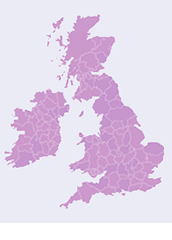 UK Health Centre