Fertility Clinics in Dorchester
If you are considering fertility treatment because you have struggled to conceive or you or your partner are infertile, or if you are a same sex couple wanting to have a baby, there are a number of options available through the NHS and/or through private funding at fertility clinics in Dorchester.
If you would like to book a consultation (many clinics offer free initial consultations) to discuss your ferility treatment options at a clinic in Dorchester, contact the clinic direct. Treatment options include:
Gamete Intra-Fallopian Transfer (GIFT)
In vitro maturation (IVM)
Surrogacy
Surgery
Please also contact us if you would like further information about egg donation/edd donors or sperm donation/sperm donors.
Fertility Clinics Dorchester
Herringston Road
Dorchester
Dorset
UK
DT1 2DR
Tel: 01305 263252
Dorchester, home to The Winterbourne Hospital, is the county town of Dorset and remains one of the most historic of the nation's market towns, as well as home to one of the most famous of English authors, Thomas Hardy. Amongst whose successful works is 'Tess of the d'Ubervilles', a popular literary classic. The Winterbourne Hospital makes use of Dorchester's lovely look and appeal to create a friendly environment that encourages recovery and wellbeing. After the necessary investigations into your condition are performed, you can expect the expert staff at the hospital to take you through cutting edge treatments like intrauterine insemination (either with partner or donor sperm), in vitro fertilisation (IVF), and ICSI (intra-cytoplasmic sperm injection). Other services are the likes of GIFT, also known as gamete intrafallopian transfer, counselling, surgical sperm retrieval through PESA, and others. In 2009 the HFEA which licenses and monitors the hospital reported that the hospital performed 71 cycles of IVF and 101 of ICSI to patients both private and NHS funded.
---
FERTILITY INFORMATION
UK HEALTH CENTRES
SELECT A LOCATION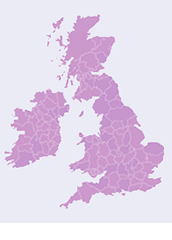 UK Health Centre