Fertility Clinics in Dumfries
If you are considering fertility treatment because you have struggled to conceive or you or your partner are infertile, or if you are a same sex couple wanting to have a baby, there are a number of options available through the NHS and/or through private funding at fertility clinics in Dumfries.
If you would like to book a consultation (many clinics offer free initial consultations) to discuss your ferility treatment options at a clinic in Dumfries, contact the clinic direct. Treatment options include:
Gamete Intra-Fallopian Transfer (GIFT)
In vitro maturation (IVM)
Surrogacy
Surgery
Please also contact us if you would like further information about egg donation/edd donors or sperm donation/sperm donors.
Fertility Clinics Dumfries
Bankend Road
Dumfries
UK
DB1 4AP
Tel: 01387 241205
The Dumfries and Galloway Royal Infirmary provides a wealth of specialist healthcare treatments which include an artificial insemination service for patients in need of fertility treatment. Artificial insemination is a technique which involves procuring a semen sample from a male partner or from a donor and placing that sample within the female tract, usually in her cervix or uterus, where sperm can do what they do best and make their way to an egg to fertilise it and hence conceive a child. The treatment is extremely effective for couples where male factor fertility issues are present, particularly premature ejaculation or impotence. At the Royal Infirmary the particular form insemination used is intrauterine insemination, a technique where semen is placed within the uterus (the womb) to great effect. The treatment is offered with and without the stimulating effects of fertility drugs which encourage egg production, albeit with some potential side effects, most notably Ovarian Hyperstimulation Syndrome. Whether stimulated or unstimulated IUI is used depends on your particular situation and your doctor's assessment of your condition.
---
FERTILITY INFORMATION
UK HEALTH CENTRES
SELECT A LOCATION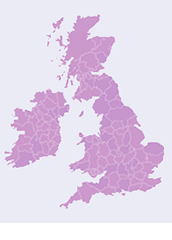 UK Health Centre