Fertility Clinics in Dundee
If you are considering fertility treatment because you have struggled to conceive or you or your partner are infertile, or if you are a same sex couple wanting to have a baby, there are a number of options available through the NHS and/or through private funding at fertility clinics in Dundee .
If you would like to book a consultation (many clinics offer free initial consultations) to discuss your ferility treatment options at a clinic in Dundee , contact the clinic direct. Treatment options include:
Gamete Intra-Fallopian Transfer (GIFT)
In vitro maturation (IVM)
Surrogacy
Surgery
Please also contact us if you would like further information about egg donation/edd donors or sperm donation/sperm donors.
Fertility Clinics Dundee
Assisted Conception Unit
Ward 35
Ninewells Hospital
Dundee
Scotland
DD1 9SY
Tel: 01382 632 111
Lying on the coast of Scotland, Dundee is the fourth largest Scottish city, and possesses a reputation for discoveries and advancements in science and industry. The RRS Discovery is one of the city's landmarks, the vessel used by Robert Falcon Scott to explore the Antarctic. The ship was famously built in Dundee and now lies as a monument within the city's harbour, a striking sight from the nearby city centre. Treatment is offered at the Ninewells Hospital ACU for private and NHS patients up to 42 years of age provided that they fall under a BMI of 35. Treatments are many and varied and include stapes like artificial insemination and IVF. Artificial insemination is performed through the IUI technique (intrauterine insemination) which involves administering a semen sample (from a donor if applicable) into the womb of a woman to achieve conception. Both donor insemination and standard IUI are offered with or without the use of fertility drugs to induce ovulation. The use of these drugs depends on your individual circumstances, preferences, and what your clinician advises you is the best route for your treatment. In vitro fertilisation is provided with ICSI if necessary, a method also known as intra-cytoplasmic sperm injection which, as the name tells us, involves injecting a sperm cell directly into an egg cell for fertilisation. Standard IVF without ICSI is on offer and can be performed to great success as well. The treatment will involve the use of fertility drugs to encourage ovulation, and any surplus eggs produced by the procedure can be stored for future cycles. IVF is performed using the blastocyst transfer technique, wherein an embryo is left for up to five days until it has reached the blastocyst stage of development before transfer into the womb. This improves the chances of a successful implantation and has been proven to be a very effective method of embryo transfer. IVF and ICSI are both offered with donor eggs, sperm, and embryos, a facility which some couples may make use of where they don't want to pass on a genetic illness for instance. The centre actively recruits donors for these treatments to ensure that a ready supply of sperm, embryos, and eggs are available for patients in need of them. Donor materials are also used, where consent is given, for research into improving assisted reproduction methods. The unit also provides a full surrogacy service, an extremely useful facility for same sex couples or couples where the female womb is unsuitable for pregnancy. In the latter case, surrogacy is an amazing option as it makes the pregnancy and delivery of a couple's child possible where it otherwise wouldn't be. The clinic will support you throughout a surrogacy arrangement, keeping the proceedings clear and straightforward for both parties involved.
---
FERTILITY INFORMATION
UK HEALTH CENTRES
SELECT A LOCATION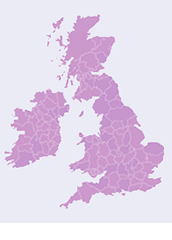 UK Health Centre