Fertility Clinics in Hexham
If you are considering fertility treatment because you have struggled to conceive or you or your partner are infertile, or if you are a same sex couple wanting to have a baby, there are a number of options available through the NHS and/or through private funding at fertility clinics in Hexham.
If you would like to book a consultation (many clinics offer free initial consultations) to discuss your ferility treatment options at a clinic in Hexham, contact the clinic direct. Treatment options include:
Gamete Intra-Fallopian Transfer (GIFT)
In vitro maturation (IVM)
Surrogacy
Surgery
Please also contact us if you would like further information about egg donation/edd donors or sperm donation/sperm donors.
Fertility Clinics Hexham
Transport Centre for The Gateshead Fertility Unit
Hathor Unit
Hexham General Hospital
Hexham
Northumberland
UK
NE46 1QJ
Tel: 01434 655360

Hathor Unit
Hexham General Hospital
Corbridge Road
Hexham
Northumberland
UK
NE46 1QJ
Tel: 01434 655360
Hexham is a Northumbrian town with a history as a market town built around a monastery dating back to 674. Hexham Abbey is the town's dominant feature dating back to about 1200 AD, and is a remarkable architectural structure that defines Hexham's classic aesthetic. The town is made easily accessible by the Tyne Valley Line which links Carlisle and Newcastle, and a number of roads running through the are also make it accessible by car. Hexham General Hospital can provide a certain class of infertility treatments for patients referred by their GPs for such care. These are insemination treatments that are often used where the cause of infertility is undetermined or where male infertility stems from an ejaculatory issue like retrograde or premature ejaculation, or impotence. Intrauterine insemination is practiced at Hexham General Hospital, a relatively simple procedure which involves first taking a sperm sample from a male partner (or a donor but at Hexham from a male partner) and preparing it for insertion into the female uterus. The female body is often prepared through the use of what are called fertility drugs, hormones and hormone agonists which stimulate the production and release of eggs into the uterus, where a sperm sample placed therein through IUI can fertilise an egg. Once an egg is fertilised through IUI, pregnancy is achieved and can carry on through to full term. This service is available at Hexham General Hospital and can be immensely useful if you have been unable to conceive for a couple of years.
---
FERTILITY INFORMATION
UK HEALTH CENTRES
SELECT A LOCATION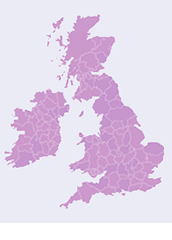 UK Health Centre