Fertility Clinics in Hull
If you are considering fertility treatment because you have struggled to conceive or you or your partner are infertile, or if you are a same sex couple wanting to have a baby, there are a number of options available through the NHS and/or through private funding at fertility clinics in Hull.
If you would like to book a consultation (many clinics offer free initial consultations) to discuss your ferility treatment options at a clinic in Hull, contact the clinic direct. Treatment options include:
Gamete Intra-Fallopian Transfer (GIFT)
In vitro maturation (IVM)
Surrogacy
Surgery
Please also contact us if you would like further information about egg donation/edd donors or sperm donation/sperm donors.
Fertility Clinics Hull
Hull and East Yorkshire Women and Children's Hospital
Hull Royal Infirmary
Anlaby Road
Hull
UK
HU3 2JZ
Tel: 01482 382 648
Hull is a well-known city in East Yorkshire that is actually more properly called Kingston Upon Hull. It has however been abbreviated to 'Hull' to the extent that few people know its actual name! The city was one of those hardest hit by the second world war, but in more recent years extensive rebuilding and refurbishment schemes have fuelled its growth. The Hull IVF Unit doesn't just offer IVF, but in fact provides a range of different treatments to cater for the needs of a diverse population, including a selection of fertility tests which assess whether or not you are infertile and what the source of any problems might be. A fertility assessment like this can be invaluable in determining what your options are and what your next steps should be. In addition to investigations into an existing fertility issue, the unit also offers a check-up service for couples beginning to try and get pregnant and anyone else looking for the peace of mind that comes with being comfortable confident in your health. Surgical sperm retrieval is one of the treatments offered out of the unit, and is used where male infertility because of a lack of sperm in ejaculated semen is established as the cause of infertility. Sperm are stored in a structure in the testicles called the epididymis, and surgical sperm retrieval is a solution where this structure is blocked, allowing your doctor to extract otherwise healthy sperm for future treatments. Two methods of sperm retrieval are practiced at the unit, and these are TESA and PESA (testicular sperm extraction and percutaneous epididymal sperm aspiration respectively). Sperm extracted in this manner can be used for the centre's ICSI, IUI, and IVF procedures. IUI is a form of artificial insemination which involves the insertion of sperm into the womb, hence its name 'intrauterine insemination'. IVF and ICSI are similar versions of a remarkable assisted reproduction technology that has changed the lives of couples across the world. IVF takes sperm and eggs extracted from a couple, and gives them the opportunity to interact in a lab environment away from the complex physiology of the human body where something has gone wrong to result in infertility. ICSI is a version of IVF that relieves sperm cells of the difficult task of making it to an egg, penetrating its external layers, and fertilising it. The technique is described by the name, intra-cytoplasmic sperm injection, where sperm are directly injected into the egg cell giving a much better chance of a successful fertilisation.
The Hull IVF Unit
The Women and Children's Hospital
Hull Royal Infirmary
Anlaby Road
HULL
HU3 2JZ
Tel: 01482 382648
---
FERTILITY INFORMATION
UK HEALTH CENTRES
SELECT A LOCATION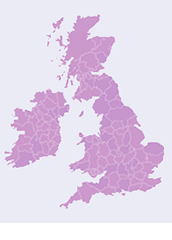 UK Health Centre