Fertility Clinics in Isleworth
If you are considering fertility treatment because you have struggled to conceive or you or your partner are infertile, or if you are a same sex couple wanting to have a baby, there are a number of options available through the NHS and/or through private funding at fertility clinics in Isleworth.
If you would like to book a consultation (many clinics offer free initial consultations) to discuss your ferility treatment options at a clinic in Isleworth, contact the clinic direct. Treatment options include:
Gamete Intra-Fallopian Transfer (GIFT)
In vitro maturation (IVM)
Surrogacy
Surgery
Please also contact us if you would like further information about egg donation/edd donors or sperm donation/sperm donors.
Fertility Clinics Isleworth
West Middlesex University Hospital
Twickenham Road
Isleworth
Middlesex
UK
TW7 6AF
Tel: 020 8560 2121
Isleworth has its roots in Saxon history and can be found within Hounslow, a Borough in west London lying just east of a town of the same name. West Middlesex University Hospital is a provider of intrauterine insemination to NHS patients who can make use of the treatment to get pregnant. Intrauterine insemination is often referred to as IUI for short, and is a technique which essentially involves first obtaining a sperm sample from a male partner, and then inserting said sample into a female partner's uterus. The treatment can often involve a regime of fertility drugs prior to the process which is designed to stimulate egg production and hence increase the chances of a successful IUI treatment cycle.
---
FERTILITY INFORMATION
UK HEALTH CENTRES
SELECT A LOCATION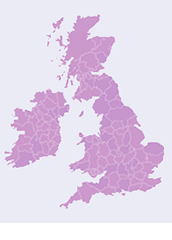 UK Health Centre