Fertility Clinics in Portsmouth
If you are considering fertility treatment because you have struggled to conceive or you or your partner are infertile, or if you are a same sex couple wanting to have a baby, there are a number of options available through the NHS and/or through private funding at fertility clinics in Portsmouth.
If you would like to book a consultation (many clinics offer free initial consultations) to discuss your ferility treatment options at a clinic in Portsmouth, contact the clinic direct. Treatment options include:
Gamete Intra-Fallopian Transfer (GIFT)
In vitro maturation (IVM)
Surrogacy
Surgery
Please also contact us if you would like further information about egg donation/edd donors or sperm donation/sperm donors.
Fertility Clinics Portsmouth
Queen Alexandra Hospital
Southwick Hill Road
Cosham
Portsmouth
UK
PO6 3LY
Tel: 023 9228 6000 ext4224
Portsmouth has a strong and illustrious military history as one of the main naval ports in the country. It is this strong connection which has fuelled the Portsmouth Hospital's Trust in many ways, leading most recently to the extensive redevelopment of the Queen Alexandra Hospital which is home to the largest Ministry of Defence Unit in the country. The Queen Alexandra Hospital is also home to a Fertility Centre offering intrauterine insemination treatments to both private and NHS patients up to the age of 44 with a BMI between 19 and 30. On some individual occasions patients with a BMI of over 30 can be treated, but this is down to the doctor's and PCT's discretion. Counselling services are offered at the clinic to support couples through a difficult time, and translator services can be provided to patients with difficulty in communicating win English. The unit's investigative approach will involve sperm assessment and monitoring of the ovulation cycle, and if thought beneficial by your doctor, intrauterine insemination can be offered. This procedure is often precluded by a cycle of drug treatments designed to induce ovulation which results in more eggs within the womb which can be fertilised by the introduction of sperm through IUI. Two surgical options are available for patients who would benefit from them, namely tubal surgery and surgical sperm aspiration. The former is a treatment for the blockage of the fallopian tubes, a cause for many instances of infertility in women. The latter is a way of retrieving sperm from a male who has no or few sperm cells in his ejaculate. All of these treatments are provided out of new facilities recently completed in 2009, meaning that you can expect the latest equipment for both investigative and treatment purposes at the centre.
St Mary's Hospital
Milton Road
Portsmouth
UK
PO3 6AD
Tel: 023 9286 6505

Queen Alexandra Hospital
Southwick Hill Road
Cosham
Portsmouth
UK
PO6 3LY
Tel: 023 9228 6000 ext4224

---
FERTILITY INFORMATION
UK HEALTH CENTRES
SELECT A LOCATION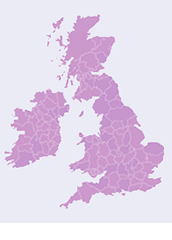 UK Health Centre