Fertility Clinics in West Wimbledon
If you are considering fertility treatment because you have struggled to conceive or you or your partner are infertile, or if you are a same sex couple wanting to have a baby, there are a number of options available through the NHS and/or through private funding at fertility clinics in West Wimbledon.
If you would like to book a consultation (many clinics offer free initial consultations) to discuss your ferility treatment options at a clinic in West Wimbledon, contact the clinic direct. Treatment options include:
Gamete Intra-Fallopian Transfer (GIFT)
In vitro maturation (IVM)
Surrogacy
Surgery
Please also contact us if you would like further information about egg donation/edd donors or sperm donation/sperm donors.
Fertility Clinics West Wimbledon
West Wimbledon Clinic
St Georges House
3-5 Pepys Road
West Wimbledon
UK
SW20 8NJ
Tel: 020 8947 9600
You can achieve remarkable ends through the treatments provided by the West Wimbledon branch of CREATE Fertility. Human fertility is an extremely complicated system that depends on so many little factors working in concert to yield a system that delivers the most remarkable outcome of all, a new-born child. By offering a diverse range of specialist fertility treatments, CREATE are able to address your individual condition and find the right treatment for you. The world famous in vitro fertilisation (IVF) procedure is provided and used in CREATE's unique natural and safe method. Fertility drugs are used sparingly to avoid side effects like Ovarian Hyperstimulation Syndrome, an unpleasant condition which is a complication of fertility drug treatment. Egg storage is provided by CREATE on top of a donor recruitment service that provides women with poor or insufficient eggs a chance to get pregnant as well. A remarkable service provided by CREATE is an offer of free IVF treatments for women willing to donate and share excess eggs generated by the IVF protocol. Few other clinics offer the IVM procedure available at CREATE, a variation on the IVF procedure that makes use of immature eggs for the IVF procedure. Another variation that you are likely to have heard of is the ICSI technique, which is intra-cytoplasmic sperm injection, or more simply put, a means by which a sperm cell is inserted directly into an egg cell to fertilise it. If you have concerns about your fertility or are referred from a doctor then CREATE's fertility MOTs are investigative sessions that look into how well you and your partner's reproductive tracks are working, and if not, what can be done to reach your goal of pregnancy.
---
FERTILITY INFORMATION
UK HEALTH CENTRES
SELECT A LOCATION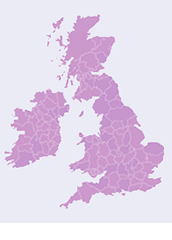 UK Health Centre