Fertility Clinics in Woking
If you are considering fertility treatment because you have struggled to conceive or you or your partner are infertile, or if you are a same sex couple wanting to have a baby, there are a number of options available through the NHS and/or through private funding at fertility clinics in Woking.
If you would like to book a consultation (many clinics offer free initial consultations) to discuss your ferility treatment options at a clinic in Woking, contact the clinic direct. Treatment options include:
Gamete Intra-Fallopian Transfer (GIFT)
In vitro maturation (IVM)
Surrogacy
Surgery
Please also contact us if you would like further information about egg donation/edd donors or sperm donation/sperm donors.
Fertility Clinics Woking
Victoria Wing
Nuffield Health Woking Hospital
Shores Road
Woking
Surrey
UK
GU21 4BY
Tel: 01483 227 814
The Woking Nuffield Hospital's treatments for infertility stem from IVF (in vitro fertilisation) through to artificial insemination by IUI. The hospital's successful live birth rates are on par with the national average, and the team at the ACU are experienced in delivering these treatments, having delivered 608 IVF treatments and 259 ICSI treatments in 2009. Egg sharing is one of the facilities on offer at The Woking Hospital's ACU. This scheme essentially involves the donation of eggs from one couple to another who are struggling with their fertility in exchange for a free cycle of IVF. The scheme is practiced by some other hospitals and clinics, and the general criteria for eligibility for egg sharing is age (between 18-35), body mass index (between 20 and 30), medical history, and the number of treatment cycles previously received.
---
FERTILITY INFORMATION
UK HEALTH CENTRES
SELECT A LOCATION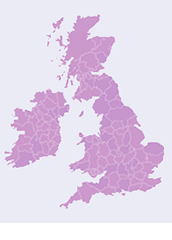 UK Health Centre