Fertility Clinics in Aldridge
If you are considering fertility treatment because you have struggled to conceive or you or your partner are infertile, or if you are a same sex couple wanting to have a baby, there are a number of options available through the NHS and/or through private funding at fertility clinics in Aldridge.
If you would like to book a consultation (many clinics offer free initial consultations) to discuss your ferility treatment options at a clinic in Aldridge, contact the clinic direct. Treatment options include:
Gamete Intra-Fallopian Transfer (GIFT)
In vitro maturation (IVM)
Surrogacy
Surgery
Please also contact us if you would like further information about egg donation/edd donors or sperm donation/sperm donors.
Fertility Clinics Aldridge
Third Floor - Centre House
Court Parade
Aldridge
West Midlands
UK
WS9 8LT
Tel: 01922 455 911
The Midland Fertility Service is based in Walsall, a fairly large town with a significant presence in the Black Country and easy transport links to Birmingham and Wolverhampton, as well as much of South Staffordshire. Most of Walsall's growth happened during the industrial revolution, which explains excellent road and rail networks supplying a town that remains largely industrial. From this location the Midland Fertility Service can provide an easy to access service to communities across the midlands and much of south Staffordshire. The service is remarkably accessible and comprehensive, covering treatments to best take care of the fertility needs of the local community. Treatments available include freezing and storage facilities for eggs and sperm, which means that surplus eggs and sperm from treatments are kept on ice for future use sparing you the need for another cycle of preparation and extraction. Intrauterine insemination is offered as the artificial insemination method of choice because of its effectiveness and reputation, making it an ideal choice where erectile issues are afflicting a male partner or where donor sperm are involved. Surgical sperm extraction is provided where a male partner suffers from a condition called azoospermia, an affliction where sperm are not produced within a semen sample. This is usually because of a blockage in one of the structures responsible for transporting sperm, and as such can be surgically addressed. The two methods of sperm extraction practiced at the centre are PESA (percutaneous epididymal sperm aspiration) and TESA (testicular sperm aspiration), two effective methods which are performed by a consultant urologist under general anaesthetic. The use of fertility drugs is practiced to prepare women for IVF and insemination, thereby giving the best chance of a pregnancy by preparing the body for the process. IVF and ICSI are of course extremely popular offerings at the centre, with couples of virtually any background coming to the centre to benefit from these treatments. IVF (in vitro fertilisation) is offered with ICSI (intra-cytoplasmic sperm injection) to give couples a high chance of conception by way of the latest and most advanced fertility treatments available.
---
FERTILITY INFORMATION
UK HEALTH CENTRES
SELECT A LOCATION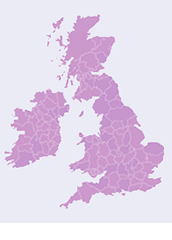 UK Health Centre