Fertility Clinics in Canterbury
If you are considering fertility treatment because you have struggled to conceive or you or your partner are infertile, or if you are a same sex couple wanting to have a baby, there are a number of options available through the NHS and/or through private funding at fertility clinics in Canterbury.
If you would like to book a consultation (many clinics offer free initial consultations) to discuss your ferility treatment options at a clinic in Canterbury, contact the clinic direct. Treatment options include:
Gamete Intra-Fallopian Transfer (GIFT)
In vitro maturation (IVM)
Surrogacy
Surgery
Please also contact us if you would like further information about egg donation/edd donors or sperm donation/sperm donors.
Fertility Clinics Canterbury
The Brabourne Suite
Nackington Road
Canterbury
Kent
UK
CT4 7AR
Tel: 01227 825 125
The Chaucer Hospital can be found in a location both idyllic and convenient in Canterbury. Of the many services offered out of the hospital's HFEA licensed assisted reproduction unit. IVF and ICSI, also referred to as in vitro fertilisation and intra-cyoplasmic sperm injection respectively, are both superb procedures offered by the modern Chaucer Hospital. Both procedures are also offered with donor eggs should they become necessary, and have been performed with success rates consistent with the HFEA's national averages for both under 35s and patients between 35 and 37. Sperm retrieval procedures are provided by the treatment centre alongside sperm assessment as part of the hospital's male infertility treatment offering, and ovulation monitoring and induction is provided to assess and if necessary improve monthly ovulation for women suffering from infertility. Insemination is often a first port of call in the world of fertility treatment, and this procedure is offered at its best in the form of IUI (intrauterine insemination) and alongside the provision of donor insemination if your partner's sperm is unsuitable, you have no partner, or you are part of a same sex couple.
26 Castle Street
Canterbury
Kent
UK
CT1 2PX
Tel:

Box 271
The Rosie Hospital
Robinson Way
Cambridge
UK
CB2 0QQ
Tel: 01223 217 617
---
FERTILITY INFORMATION
UK HEALTH CENTRES
SELECT A LOCATION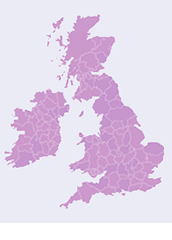 UK Health Centre