Fertility Clinics in Chichester
If you are considering fertility treatment because you have struggled to conceive or you or your partner are infertile, or if you are a same sex couple wanting to have a baby, there are a number of options available through the NHS and/or through private funding at fertility clinics in Chichester .
If you would like to book a consultation (many clinics offer free initial consultations) to discuss your ferility treatment options at a clinic in Chichester , contact the clinic direct. Treatment options include:
Gamete Intra-Fallopian Transfer (GIFT)
In vitro maturation (IVM)
Surrogacy
Surgery
Please also contact us if you would like further information about egg donation/edd donors or sperm donation/sperm donors.
Fertility Clinics Chichester
78 Broyle Road
Chichester
West Sussex
UK
PO19 4BE
Tel: 01243 530 600

St. Richards Hospital
Spitalfield Lane
Chichester
W. Sussex
UK
PO19 6SE
Tel: 01243 788122
St Richard's Hospital can be found in the cathedral city of Chichester, and provides a number of investigative procedures and artificial insemination for private and NHS patients of all ages. The main form of assisted conception offered at the hospital is IUI (intrauterine insemination), an effective and popular treatment option that has been used to great success across the world. The hospital offers a number of different investigative options that allow doctors to work out how treat you. Sperm assessment is performed to determine the quality of a male partner's sperm. Monitoring of ovulation is performed to observe the female cycle and note any irregularities or issues in that. Tubal surgery is available for women who suffer from damage or blockage of the fallopian tubes, which can often occur as a consequence of a pelvic inflammation or the use of IUD contraceptives.
---
FERTILITY INFORMATION
UK HEALTH CENTRES
SELECT A LOCATION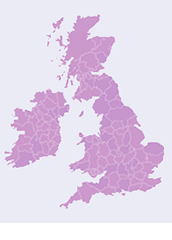 UK Health Centre