Fertility Clinics in Glasgow
If you are considering fertility treatment because you have struggled to conceive or you or your partner are infertile, or if you are a same sex couple wanting to have a baby, there are a number of options available through the NHS and/or through private funding at fertility clinics in Glasgow.
If you would like to book a consultation (many clinics offer free initial consultations) to discuss your ferility treatment options at a clinic in Glasgow, contact the clinic direct. Treatment options include:
Gamete Intra-Fallopian Transfer (GIFT)
In vitro maturation (IVM)
Surrogacy
Surgery
Please also contact us if you would like further information about egg donation/edd donors or sperm donation/sperm donors.
Fertility Clinics Glasgow
21 Fifty Pitches Way
Cardonald
Business Park
Glasgow
Scotland
G51 4FD
Tel: 0141 891 8749
The Glasgow Centre for Reproductive Medicine caters to one of the largest and busiest population centres in Scotland, and in fact in the rest of the UK, and as such is required to excel to meet the needs of a diverse and numerous population as well as to compete with other service providers in the field. Private patients are admitted by the GCRM for treatment with no BMI limit and a flexible age limit unlike many other treatment centres. Diverse options are made available to patients so that a treatment option perfectly suited to you will be found. Intra-cytoplasm sperm injection (ICSI) is offered on top of an excellent IVF (in vitro fertilisation) service, which is provided alongside artificial insemination through the IUI (intrauterine insemination) technique with both donor and partner sperm. IVF can be performed using a technique referred to as blastocyst transfer, which essentially involves letting an embryo mature more than it normally would prior to transfer and implantation into the womb. The centre actively recruits donors and offers patients the chance to use donated sperm, eggs, and embryos for treatments. Alongside fertility treatments, PGD, also known as pre-implantation genetic diagnosis, is offered as a means by which the genetic health of a child can be determined prior to a pregnancy.
Assisted Conception Services
Unit 29
Beaconsfield Road
Glasgow
Scotland
G12 0PJ
Tel: 0141 576 2743
Glasgow is a city whose industrial history rivals most other major cities in the UK and the world. It continues to be an important economic part of Scotland, and is home to many quality service an care providers like Glasgow Nuffield Health Hospital and its reproductive medicine departments. Fertility MOTs are provided to assess your reproductive health, whether you are just about to start trying to conceive or have been attempting to get pregnant for a while but with little success. IVF, ICSI, and artificial insemination are provided to patients who can most benefit from these technologies.
Assisted Conception Services Unit
Queen Elizabeth Building
Glasgow Royal Infirmary
Alexandra Parade
Glasgow
G31 2ER
Tel: 0141 211 0505
The assisted conception service at the Glasgow Royal Infirmary can offer both investigations into infertility and assisted reproductive technologies. Surgical routes can be opted for where the extraction of sperm is needed if said cells are not present in ejaculated semen. Full and partial surrogacy services are available under the watchful eye of experienced staff, and donors are recruited for the centre for IVF, ICSI, and insemination treatments using donor eggs and sperm etc. You can also expect emotional support through counselling and support groups to guide you through what is undoubtedly an emotionally difficult and uncertain time. IVF, ICSI, and intrauterine insemination are offered alongside the PGD (preimplantation genetic diagnosis) technique which allows for a check into the genetic health of embryos. This test determines whether or not a child will have a number of serious genetic illnesses, and in doing so also increases the likelihood of a successful pregnancy because a healthier embryo is much more likely to survive.
---
FERTILITY INFORMATION
UK HEALTH CENTRES
SELECT A LOCATION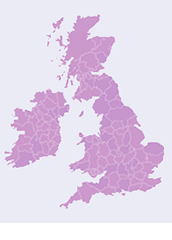 UK Health Centre