Fertility Clinics in Llantrisant
If you are considering fertility treatment because you have struggled to conceive or you or your partner are infertile, or if you are a same sex couple wanting to have a baby, there are a number of options available through the NHS and/or through private funding at fertility clinics in Llantrisant.
If you would like to book a consultation (many clinics offer free initial consultations) to discuss your ferility treatment options at a clinic in Llantrisant, contact the clinic direct. Treatment options include:
Gamete Intra-Fallopian Transfer (GIFT)
In vitro maturation (IVM)
Surrogacy
Surgery
Please also contact us if you would like further information about egg donation/edd donors or sperm donation/sperm donors.
Fertility Clinics Llantrisant
Cwm Taff NHS Trust
Royal Glamorgan Hospital
Ynysmaerdy
Llantrisant
Rhondda Cynon Taff
UK
CF72 8XR
Tel: 01443 443525
The primary treatment on offer at The Women's Unit CWM Taff NHS Trust is the tried and tested intrauterine insemination technique. The method is offered as a solution to women of any age with a body mass index under 30 who can benefit from artificial insemination. The local primary care trust places a limit of 3 cycles of IUI. On top of its insemination offering, the unit also provides patients with a skilled dedicated counsellor and fertility treatments to encourage ovulation. Tubal surgery can be performed to clear damaged or blocked fallopian tubes, which can often be a source of infertility for women of all ages.
---
FERTILITY INFORMATION
UK HEALTH CENTRES
SELECT A LOCATION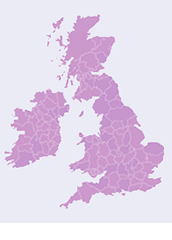 UK Health Centre