Fertility Clinics in Manchester
If you are considering fertility treatment because you have struggled to conceive or you or your partner are infertile, or if you are a same sex couple wanting to have a baby, there are a number of options available through the NHS and/or through private funding at fertility clinics in Manchester.
If you would like to book a consultation (many clinics offer free initial consultations) to discuss your ferility treatment options at a clinic in Manchester, contact the clinic direct. Treatment options include:
Gamete Intra-Fallopian Transfer (GIFT)
In vitro maturation (IVM)
Surrogacy
Surgery
Please also contact us if you would like further information about egg donation/edd donors or sperm donation/sperm donors.
Fertility Clinics Manchester
108-112 Daisy Bank Road
Victoria Park
Manchester
UK
M14 5QH
Tel: 0161 249 3040
Manchester is one of the thriving hearts of England with a busy population and prospering industrial and service element that drives the city and its growth. Manchester also happens to be in a wonderfully convenient location, allowing its residents, and indeed those of neighbouring cities and areas, excellent access to the rest of the country because of its central location. CARE Manchester offers a long and distinguished list of treatments and services encompassing counselling, storage, and different methods of treating infertility. The result? That you can have your fertility needs tended to under one extremely reputable roof. IVF (in vitro fertilisation) is one of the staple provisions of any leading fertility service, and CARE Manchester is no exception, providing an excellent IVF service with some of the best success rates in the country. IVF has proven to be an extremely effective treatment for many different instances of infertility, including where the causes are unknown and where previous attempts at treatment have been successful. Where IVF has been initially unsuccessful, a slightly different and more advanced version of the classic treatment is offered in the form of intra-cytoplasmic sperm injection, also known as ICSI. This treatment basically involves using a similar protocol to IVF, but where sperm is injected into an egg cell to fertilise it quickly and efficiently, which is remarkably effective where male infertility through poor sperm motility is the problem for example. Other treatments are also on offer at CARE Manchester, which as a specialist in the field of fertility offers the most effective forms of artificial insemination and ovulation treatment, as well as an invaluable method for health checking babies to be called preimplantation genetic screening and preimplantation genetic diagnosis.
UK NEQAS Andrology
St Mary's Hospital
Hathersage Road
Manchester
UK
M13 0JH
Tel: 0161 276 1234

Bridgewater Hospital
120 Princess Road
Manchester
UK
M15 5AT
Tel: 0161 227 0010
Manchester can probably claim a reputation unlike any other city in England thanks to the phenomenal global support of the Manchester United Football team. That being said, there's a lot more to Manchester than Old Trafford, namely a bustling cultural and commercial sector that is one of the most productive in England. Manchester Fertility Services faces a number of competitors in its field as there are a number of private healthcare providers within Manchester, but despite this has retained its position as one of the leading IVF providers in the area thanks to its commitment to getting you pregnant in a quick and healthy manner. A range of treatment options are available including the surgical extraction of sperm from men who have no sperm in their semen, allowing for artificial insemination options. Intrauterine insemination (IUI) and donor sperm insemination are the two techniques of artificial insemination on offer, the latter is in fact IUI but with donated sperm. IUI is a straightforward but effective method involving sperm being placed within the uterus for fertilisation, providing an opportunity for conception and pregnancy in a number of different cases and scenarios. Ovulation can be induced at the centre for IUI treatments as well as IVF and ICSI (in vitro fertilisation and intra-cytoplasmic sperm injection respectively). An egg sharing scheme is available to encourage egg donation where excess eggs are produced from induced ovulation, and this means that should you choose to share your eggs you will receive an IVF cycle completely free of charge while also providing another couple with a chance to have a child of their own. Egg freeing and sperm freezing are made available to preserve samples for later treatment cycles, which can save you the hassle of having to go through another round of fertility drug treatment and having your eggs collected all over again. Fertility MOTs and mini MOTs are provided for couples who want to look into their fertility, whether to set their mind at ease prior to trying to get pregnant, or those who have been trying to get pregnant for a while and haven't had much success and would like a quick and efficient expert opinion. All in all the services provided at the MFS are comprehensive in every sense, and designed to get you pregnant as healthily and quickly as possible.
Regional IVF and DI Unit
The Department of Reproductive Medicine
St. Mary's Hospital, Whitworth Park
Manchester
UK
M13 0JH
Tel: 0161 276 6340
Manchester is one of the busiest cities in the UK, with a population just under half a million according to the 2011 census. The city was in fact home to the world's first train station, and is host to many well-known national sites like Old Trafford, Manchester Victoria Station, and Beetham Tower to name a few. Manchester is also home to a thriving university and a network of NHS trust hospitals known for excellent care. The Department of Reproductive Medicine is housed within St Mary's Hospital, which is otherwise known for providing specialist care for women and so has a number of the latest gynaecological facilities and the like. Andrology services are available at the Department of Reproductive Medicine to test for male factor infertility, which accounts for roughly a third of the cases of infertility reported. Similarly tests are available to ascertain female factor infertility, which also accounts for about a third of infertility cases. Artificial insemination and assisted reproduction through lab based in vitro fertilisation (IVF) and intra-cytoplasmic sperm injection (ICSI) allow for successful assisted reproduction treatments, giving many families the pregnancies and live births that they have been struggling to achieve. The department's location means that many people across the region are referred to make use of their services. In 2009 534 cycles of IVF were formed, as well as 509 ICSI cycles. Treatments are offered to NHS patients with a BMI between 19-30 who are at most 39 years of age.
---
FERTILITY INFORMATION
UK HEALTH CENTRES
SELECT A LOCATION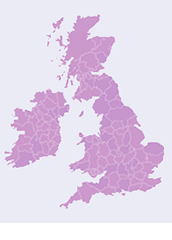 UK Health Centre