Fertility Clinics in Sutton Coldfield
If you are considering fertility treatment because you have struggled to conceive or you or your partner are infertile, or if you are a same sex couple wanting to have a baby, there are a number of options available through the NHS and/or through private funding at fertility clinics in Sutton Coldfield.
If you would like to book a consultation (many clinics offer free initial consultations) to discuss your ferility treatment options at a clinic in Sutton Coldfield, contact the clinic direct. Treatment options include:
Gamete Intra-Fallopian Transfer (GIFT)
In vitro maturation (IVM)
Surrogacy
Surgery
Please also contact us if you would like further information about egg donation/edd donors or sperm donation/sperm donors.
Fertility Clinics Sutton Coldfield
Fertility Centre
Rectory Road
Sutton Coldfield
West Midlands
UK
B75 7RR
Tel: 0121 424 9758
One of the towns north of central Birmingham, Sutton Coldfield is known for a connection to the Royal Family which has earned it the title of Royal Town. It is home to Good Hope Hospital, a pivotal part of the Heart of England NHS Foundation Trust whose role includes the delivery of artificial insemination treatments to the residents of Sutton Coldfield, northern Birmingham, and nearby east Staffordshire amongst my other nearby towns. The method used is intrauterine insemination, a technique known for its simplicity and effectiveness in treating infertility where the causes of the condition are either unknown or rooted in such conditions as erectile dysfunction and premature ejaculation.
---
FERTILITY INFORMATION
UK HEALTH CENTRES
SELECT A LOCATION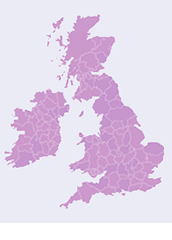 UK Health Centre