Mater Private Healthcare Laser Eye Surgery Clinic
If you would like to know how laser eye surgery can improve your eye sight, complete the form on the right hand side and an advisor will contact you. Below you can find the contact details for Mater Private Healthcare clinic, in Ireland.  Laser eye surgery clinics offer various treatments and types of surgery for your eyes including:
Lasik, Lasek, PRK & Intralase laser eye treatment
Wavefront laser vision correction
Alternatives to laser treatment including Phakic IOL's, INTACS & Conductive Keratoplasty (CK)
Treatment for presbyopia as well as short sight & long sight at Mater Private Healthcare
To book an appointment with Mater Private Healthcare laser eye surgery clinic in Dublin, find the telephone number below.
« ADD YOUR CLINIC »
Mater Private Healthcare
Eccles Street
Dublin 7
Tel: 01 - 885 8888
---
LASER EYE SURGERY INFORMATION
UK HEALTH CENTRES
SELECT A LOCATION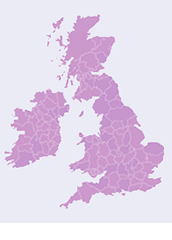 UK Health Centre