Laser Eye Surgery Clinics in Dublin
If you would like to know how laser eye surgery can improve your eye sight, contact laser eye surgery clinics in Dublin.  There are various treatments and types of surgery available for your eyes including:
Laser eye surgery clinics in Dublin offering Lasik, Lasek & PRK laser eye surgery
Laser eye surgery clinics offering new bladeless Intralase laser eye treatment
Laser eye surgery clinics offering the lastest wavefront laser vision correction
Eye surgery clinics that offer alternatives to laser treatment including Phakic IOL's, INTACS & Conductive Keratoplasty (CK)
Eye clinics that offer treatment for presbyopia as well as short sight & long sight
To book a free consultation with a Dublin laser eye surgery clinic, use the contact details below.
« ADD YOUR CLINIC »
Mater Private Healthcare in Dublin
Eccles Street
Dublin 7
Tel: 00353 1 885 8888
Roseville Eye Laser Clinic in Dublin
Consultants Clinic Bon Secours Hospital
Glasneuin
Dublin 9
Ireland
Tel: 00353 1 8368800
Laser Vision Leeson Eye Institute in Dublin
9 Upper Leeson Street
Dublin 4
Tel: 1890 60 20 20
Blackrock Clinic in Dublin
Rock Road
Blackrock
Dublin
Ireland
Tel: 1800 66 2020
Wellington Eye Clinic in Dublin
Beacon Court
Sandyford
Dublin 18
Tel: 00353 1 2930470
Optilase in Dublin
Cleaver House
Donegall Place
Belfast
Ulster
BT1 5BB
Tel: 0800 012 1565
Vision correction through Lasik and other types of laser eye surgery, can have a dramatic effect on your life and help rid or reduce your dependancy on glasses and contact lenses. However, the surgery can cost £1000's and it is important that you make the right decision, for you. It may help to speak with your optician at your next eye test and seek their opinion. Some opticians can help put you through to laser clinics or even arrange a free consultation. Below is a list of local opticians.
---
LASER EYE SURGERY INFORMATION
UK HEALTH CENTRES
SELECT A LOCATION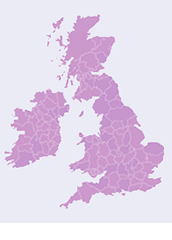 UK Health Centre