Laser Eye Surgery Clinics in Guildford
If you would like to know how laser eye surgery can improve your eye sight, contact laser eye surgery clinics in Guildford.  There are various treatments and types of surgery available for your eyes including:
Laser eye surgery clinics in Guildford offering Lasik, Lasek & PRK laser eye surgery
Laser eye surgery clinics offering new bladeless Intralase laser eye treatment
Laser eye surgery clinics offering the lastest wavefront laser vision correction
Eye surgery clinics that offer alternatives to laser treatment including Phakic IOL's, INTACS & Conductive Keratoplasty (CK)
Eye clinics that offer treatment for presbyopia as well as short sight & long sight
To book a free consultation with a Guildford laser eye surgery clinic, use the contact details below.
« ADD YOUR CLINIC »
LaserVision
Nuffield Health Guildford Hospital
Research Park
Stirling Road
Guildford
Surrey
GU2 7RF
Tel: 01483 209 518
Optegra Eye Care in Guildford
10 Alan Turing Road
The Surrey Research Park
Guildford
Surrey
GU2 7YF
Tel: 0800 358 0825
Ultralase in Guildford
Elmdon House
116 London Road
Guildford
GU1 1TN
Tel: 0800 9888 237
Vision correction through Lasik and other types of laser eye surgery, can have a dramatic effect on your life and help rid or reduce your dependancy on glasses and contact lenses. However, the surgery can cost £1000's and it is important that you make the right decision, for you. It may help to speak with your optician at your next eye test and seek their opinion. Some opticians can help put you through to laser clinics or even arrange a free consultation. Below is a list of local opticians.
Batemans (Opticians)
162 High Street
Guildford
GU1 3HN
Tel: 01483 572 953
0.1 miles away from Guildford

Boots Opticians
22-24 Swan Lane
Guildford
GU1 4EQ
Tel: 01483 573 637
0.1 miles away from Guildford

Dollond & Aitchison
94 High Street
Guildford
GU1 3HE
Tel: 01483 570 093
0.1 miles away from Guildford

Nicklins Opticians
216 High Street
Guildford
GU1 3JB
Tel: 01483 561 256
0.1 miles away from Guildford

R B A OPTICAL LTD. T/A BOOTS
22 - 24 Swan Lane
Guilford
GU1 4EQ
Tel: 01483 573637
0.1 miles away from Guildford

David Clulow
46 The Friary
Guildford
GU1 4YW
Tel: 01483 533 948
0.2 miles away from Guildford

John Harwood Optometrist
37 High Street
Guildford
GU1 3DY
Tel: 01483 575 650
0.2 miles away from Guildford

THE EYE ACADEMY
43a High Street
Guildford
GU1 3DY
Tel: 01483 577935
0.2 miles away from Guildford

Vision Express
51 High Street
Guildford
GU1 3DY
Tel: 01483 300 344
0.2 miles away from Guildford

Specsavers Opticians
23 Friary Street
Guildford
GU1 4EH
Tel: 01483 452 225
0.3 miles away from Guildford

T H Collisons Opticians
The Royal Surrey County Hospital
Egerton Road
Guildford
GU2 5XX
Tel: 01483 571122
1.6 miles away from Guildford

Vision Express
Unit 53
The Town Mall
Woking
GU2 6GD
Tel: 01483 767 141
1.8 miles away from Guildford

Batemans Opticians
37 High Street
Godalming
GU7 1AU
Tel: 01483 414 622
3.9 miles away from Guildford

Chandlers Opticians
40 High Street
Godalming
Surrey
GU7 1DY
Tel: 01483 418 020
3.9 miles away from Guildford

---
LASER EYE SURGERY INFORMATION
UK HEALTH CENTRES
SELECT A LOCATION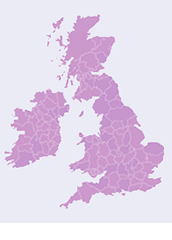 UK Health Centre