AXA PPP Healthcare Private Health Insurance
AXA PPP Healthcare is a private health insurance company based in the United Kingdom. They offer a wide range of health insurance plans from children's health insurance to small business cover. They offer you a high level of flexibility when choosing your policy in order to provide the very best health insurance for you. If you ever need to use any of the treatments that are part of your plan, you can have the peace of mind that you can have treatment straight away and close to home. AXA make sure that you have the finest experience in hospital and all the benefits of a private healthcare plan including, your own parking space, wifi, fine dining and your loved ones can visit you at anytime. They also offer a fast track appointment service where they make appointments for you, when you want and where you want.
What are the main benefits of choosing AXA PPP Healthcare?
They offer you the choice of treatments you would like covered based on your personal needs and budget. They look after the health and happiness of all their members and if you decide to sign up for Health Select there are a variety of added services and benefits including;
A wide choice of over 20,000 medical experts
A fast track service that helps you to find the right consultant for you, one who is nearby and available quickly. They arrange the appointment for you so all you have to do is turn up.
The very latest cancer medicines and treatments are available to you, even those not yet used on the NHS.
A high quality hospital experience, where you will have a private room, the finest quality meals, and your own private parking in one of over 250 hospitals.
A second opinion service is provided for your peace of mind.
You are able to control how much you spend on your health insurance, as there are a range of extras and add-ons, all designed to fit your budget needs.
If your child is part of the plan and is ill, they will pay for you to stay with your child through the night if they need hospital treatment.
AXA PPP Healthcare also provides a helpline where, as a member, you can talk to medical advisors day or night. They can even help you to find an English speaking doctor if you are travelling abroad. There is also a nurse helpline, which offers you the support and advice you and your family may need at anytime.
---
« Aviva Health UK Private Health Insurance Best Doctors Services »
PRIVATE HEALTH INSURANCE INFORMATION
UK HEALTH CENTRES
SELECT A LOCATION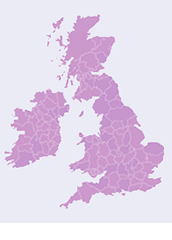 UK Health Centre