Bupa By You Health Insurance
Bupa by you offers you the chance to shape your policy to meet your needs and your budget unlike some other rigid health insurance plans.  Bupa is a well-known private insurance company that is very well established within the UK.
Some of the Bupa by you benefits are:
Very little waiting time for treatment or appointments.
If you choose full cancer cover then all your cancer medical costs are covered.
There is a round the clock helpline available and manned by a highly skilled and qualified nursing team.
There are other discounts available in leisure, travel and much more if you are a member of Bupa.
How the plan works
You can choose from either Comprehensive cover or the Treatment and Care option. The Comprehensive policy is able to cover the costs from learning of your illness, treating it and aftercare costs, which includes cancer care. They offer full cancer cover or NHS Cancer Cover Plus, which covers treatment for cancer by the NHS. You cannot use this cover for any medical conditions you had prior to having the policy and it may not be used for cosmetic surgery or some long-term conditions. Some of the key benefits of the Comprehensive cover are:
Hospital/Clinic treatment is paid in full
It can cover mental health treatments and care
Cancer treatment is paid in full
Home nursing is paid for id needed
A 24 hour helpline is offered for health questions and advise
The Treatment and Care policy covers the treatment and after care when you have been given your diagnosis via the NHS. This means that the plan does not cover any costs incurred through diagnosis. Again, certain long-term treatments will not be covered as well as monitoring chronic conditions and cosmetic treatments. Some of the main benefits of the Treatment and Care policy are:
Two levels of cancer care are offered
You can be treated at home
NHS cash benefit offered
Both plans can be tailored to suit your needs and preferences in order to create the right health insurance policy for you.
---
« British Seniors Life Insurance Bupa Global International Health Insurance »
PRIVATE HEALTH INSURANCE INFORMATION
UK HEALTH CENTRES
SELECT A LOCATION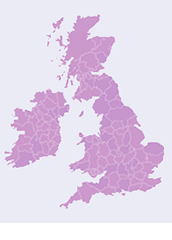 UK Health Centre