Changing Faces Denture Clinic
Tel: 0800 772 0605
Web: www.changingfacesdentures.co.uk

Excellent quality dentures
The expert clinical dental technicians at Changing Faces Denture Clinic provide patients with the very highest level of care and understanding. This excellent team are highly qualified and skilled in designing, producing and fitting exceptional quality dentures and implant assisted dentures. They know exactly how to create the best teeth alignment, using the right shape and colours to suit each individual.
Each team member at Changing Faces Denture Clinic has:
An in-depth knowledge of dental materials and dental technology
Excellent modelling skills when it comes to modelling denture teeth and gums to create a completely natural aesthetic
An outstanding combination of technical and clinical dental skills when crafting dentures
A genuine desire to help patients in achieving a healthier and happier quality of life
About Changing Faces Dentures
Changing Faces Denture Clinic offer a natural and attractive looking solution to missing teeth. They use gender specific dentures made from the very latest modern materials to create the best possible fit.
The dentures provided at Changing Faces Denture Clinic help patients to appear younger as they restore sunken features around the mouth, cheeks and lips. Implant assisted dentures allow patients to enjoy a confident smile and the freedom to laugh and smile without having to worry about missing teeth or uncomfortable, loose dentures ever again.

Award winning dentures
Changing Faces Denture Clinic is a multi-award winning organisation. Marc Northover won Clinical Dental Technician of the Year for two consecutive years in 2009 and 2010.
---
DENTISTRY INFORMATION
UK HEALTH CENTRES
SELECT A LOCATION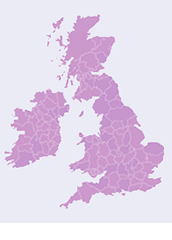 UK Health Centre