Lose Weight by Walking Around the Edge of the Supermarket  
Thursday 25th February 2010
According to Gaye Lynn Hicks of The Methodist Weight Management Center in Houston, America, walking around the edges of supermarket could be the most effective way to lose weight. She stresses that most of the foods in the aisles are full of preservatives and are unnecessary in our diets; whilst fresh fruit, vegetables, meat and dairy are located around the edges of the supermarket.  
Whilst this latest fat busting tip may seem a bit absurd, it isn't hard to see where Hicks is coming from. The majority of us will have visited the supermarket with a specific list, and more times than not will have returned with far more than we need due to walking past things in the aisles. Not only would walking around the perimeter avoid some of these temptations but it will also help you avoid the pre-packed, frozen, canned foods that just aren't good for you. Hicks emphasises that within these types of foods there are added preservatives alongside the main ingredients in order to make up the flavour of the product. However, these preservatives just add to the calories and fat that will be consumed on eating these. To put it into perspective she comments that women should only be consuming 200 calories of this added sugar per day, and men 300 calories.  
To have the healthiest possible diet you should be eating fruit, dairy, vegetables, lean meat, and whole grains – all located at the edge of the supermarket. To go the extra mile she also suggests that by drinking low-fat milk as opposed to full-fat will enable you to get just as much goodness and nutrition but without the extra fat. So perhaps next time you visit the supermarket you should try walking around the outside. And what's more, your shopping time should be dramatically reduced!
---
WEIGHT LOSS SURGERY INFORMATION
UK HEALTH CENTRES
SELECT A LOCATION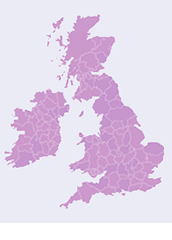 UK Health Centre