Side Effects of Diarrhoea Pack
Dioralyte does not usually cause any side effects. However, it is possible to get an allergic reaction if you have an allergy to any of the ingredients. Signs of an allergic reaction may be:
You develop a rash on your skin.
You begin having difficulty swallowing or breathing normally.
If your lips, face throat or tongue swell up.
If you notice any of the above side effects after taking Dioralyte, you should not continue taking it and it is advisable that you see a doctor immediately.
Buccastem
Possible side effects of Buccastem include:
Dryness of the mouth.
Insomnia.
Drowsiness.
You may become increasingly or more easily agitated.
Blood disorders.
Jaundice (yellow discolouration in the skin and eyes).
Dizziness.
Neuroleptic malignant syndrome (symptoms including: muscle rigidity, fever and confusion).
Rashes.
Irritation of the mouth or gums.
As with most medications, some side effects are more dangerous or potentially harmful than others. For this reason it is always important that if you do notice any deterioration in your health after taking one of the treatments available in the Diarrhoea Pack, you consult with a medical professional.
Imodium
As with Dioralyte, Imodium can cause medical complications if you are allergic to the medicine. Symptoms of an allergic reaction are:
Rashes or itching on the skin.
Hives (raised, itchy red marks on the skin).
Breathing problems.
Tightness of the chest.
Swelling of the mouth, face, lips or tongue.
Other possible non-allergy related side effects of Imodium are:
Constipation.
Decreased urination.
Skin disorders.
Bloating, stomach swelling or pain.
Ciproxin
You should not take Ciproxin if you have myasthenia gravis. Possible side effects from taking Ciproxin include:
Tendon damage (increased risk if you are over 60s, you are taking corticosteroids, or you have an organ transplant).
Nausea.
Dizziness.
Headaches or light headedness.
Insomnia.
If you experience any other side effects occur after taking Ciproxin you should seek medical attention immediately.
It should be noted that the majority of these side effects will only occur in very rare cases. However, if you do notice an adverse change in your health after taking the Diarrhoea Pack then you should see a doctor and tell them which medications you have been taking.
---
« Contraindications for Diarrhoea Pack Treatments for Travellers' Diarrhoea »
TRAVELLERS DIARRHOEA INFORMATION
UK HEALTH CENTRES
SELECT A LOCATION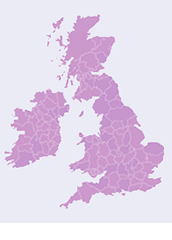 UK Health Centre