Pain from Gastric Balloon
As with most weight loss surgery it is expected that you experience some pain, however a Gastric Balloon is different to other surgery. It does not require the use of general anesthetic for the balloon to be fitted, which in itself can reduce any complications and pain. It is also a temporary method and is known as one of the procedures which is the least likely to go wrong. It is however necessary for you to consider that you may experience some pain, and you should prepare yourself for any pain in case it is to occur.
What pain might I experience?
As you may be at some risk of complication from both the installation and the removal of the balloon, which is often very rare with this procedure, you may experience some pain which can be caused if you oesophagus or stomach is punctured during the implementing of the balloon. You may also experience pain from the inflation of the balloon, however most people refer to this as more of a discomfort as opposed to a specific pain. You may feel discomfort as the balloon can cause nausea, stomach cramps and vomiting, this may occur for the first few weeks following the procedure, you will however be prescribed medicine to deal with this during and following your hospital stay, and you will also need to follow strict dietary advice to reduce any risk of this. As the procedure rarely causes problems the only thing you may feel pain from is the idea of getting used t having something in your stomach, the balloon can increase the feeling of being bloated and you should deal with this feeling as it can often stay for the full 6 months, however if you follow advice given to you, you may be able to reduce and risk of pain from the balloon.
What should I do to reduce the pain?
If you do find that you are experiencing pain from the procedure you should ensure that you are following all advice given to you by the specialist team. Your specialist team should be made up of a dietician, a surgeon, specialist nurses and a psychologist, other clinics may offer access to a fitness specialist as well. Your dietician will have advised what types of food to consume as well as given you strict amounts of food and drink to eat during the period that you have the balloon fitted, you should at all times ensure that you follow this strictly – this is extremely important and can make the difference between you feeling fine and feeling sick constantly. You must also ensure that you follow all medical advice given to you by both the surgeon and specialist nurse team, they will offer you advice with what type of medication to take to deal with pain caused, as well as spotting any signs of a complication, if you feel there is a complication you should contact your team as soon as possible. A psychologist should be on hand to offer you the support you will need with changing your lifestyle as well as keeping up the motivation for now and future. Finally if you have access to an exercise specialist, you should ensure that they help you to plan a realistic exercise regime that you can stick to which will help with your weight loss. As well as having the support of the specialist team you should ensure that you have the support of your friends and family to they can often help you when you are feeling low, and can really help in keeping you motivated to achieve hard goals.
---
« Gastric Balloon Results & Benefits Gastric Balloon Aftercare & Recovery »
WEIGHT LOSS SURGERY INFORMATION
UK HEALTH CENTRES
SELECT A LOCATION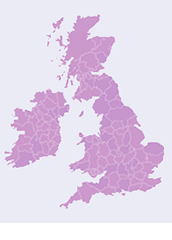 UK Health Centre