Private Biliopancreatic Diversion
There are numerous reasons people choose to go private, there a many clinics in the UK that offer Biliopancreatic Diversion surgery, however you will be required to provide evidence for meeting certain requirements. If you wish to have surgery privately you will still need a referral note from your GP, as this will prove that you meet these requirements.
How Can I Qualify For The Surgery?
You will be classed as clinically obese, your BMI will be above 40, however you will be assessed individually and this will provide an opportunity for anyone who has a health issue which could be improved by this weight loss surgery along with a BMI of 35 or above to be considered. The main health issue which is often improved by such surgery is type 2 diabetes, however there are a number of other medical problems which can be improved; you should research into whether your problem is one of these. As well as being overweight, you will need to show that in the past you have attempted weight loss through any means possible and that surgery is a last resort. If you meet these requirements you will be assessed as to whether you are fit for surgery, medically and mentally. You will need to show that you are willing to follow strict rules post operation which will lead to your safe recovery as well as a great success result.
How Much Will I Be Expected To Pay?
The cost of private surgery can be quite substantial and may vary from clinic to clinic. To ensure that you will receive the best price a good idea is to attend as many consultations as possible, the majority of private health care clinics offer these consultations free of charge, and here you can ask the questions that you feel necessary. You will therefore be able to compare prices, clinics and aftercare packages, which will help with choosing the clinic. As prices range from around £10,000 to £15,000 for this type of surgery the research is helpful in understanding what you will receive for how much you decide to pay.  Private clinics will charge prices which they feel fit the style, skill and assistance their procedure provides, discussing these topics at a consultation can be the determining factor in choosing that clinic. Consider all aspects of the procedure and weigh it up with the quote you are offered, and then compare it with other quotes you may have received, ensure that you spend substantial time on this, the clinic and team provided by the surgery will be just as important as the procedure itself.
How Will They Expect Me To Pay?
You may be thinking that you can't afford £10 to £15,000 and that is understandable, the clinics will offer you as much help as they can. As every clinic is different their payments plan will differ, some clinics will require payment upfront, which will require you to either save or if it is an option consider a loan, other clinics however will offer you specific plans so you can pay in instalments, the quicker you pay and the larger the instalment the less interest you will pay. Many clinics will offer you no interest if you are able to pay in a specific period of time.
Biliopancreatic Diversion Abroad
Biliopancreatic Diversion abroad is considered as a low cost option for surgery, with clinics across Europe as well as further afield offering prices with savings of up to a few thousand pounds off the average UK price, it is very appealing. There is however a lot more to consider when looking at this option, you will need to spend substantial time researching into many areas, from the type of clinic, to the countries medical requirements, what kind of aftercare package you will be offered, as well as what will be done if complications occur.
Will I Be Considered For Surgery Abroad?
It is asked that clinics abroad meet specific international guidelines when offering surgery, however it is not against the law for them to not follow these guidelines therefore you the requirements may be slightly more lenient than what is asked of you in the UK. Many clinics will however only offer surgery if your BMI is above 40, or 35 if your health can be improved, for example if you have high blood pressure, diabetes or heart problems to name just a few. Some clinics will require you to show that you have attempted weight loss by other means without success; whereas some clinics will just state that you need to have been obese for 5 years. I would recommend however that you ensure what your specific clinic requires, as many clinics will offer the consultation the day prior to surgery, and if it is considered on this date that you are not suitable for the surgery then you may not qualify for a refund.
Cost of Surgery Abroad
The prices offered from clinics abroad is the major selling point when considering this option, many clinics offer savings in their thousands. These savings are due to the types of aftercare packages, or sometimes even just the economic climate of other countries. You can find numerous prices across Europe, and America, amongst other places. Many clinics will require you to fill out a quote request email which can be located on many of their websites; they will then offer you a quote for free. You will have no limit on how many quotes you can request from different clinics within different countries, and this is best advised, as you will then be able to consider a range of option in price, country, and quality of surgery. It is often difficult to provide prospective patients with consultations, however many surgeries have a specialist team member visit the UK on a weekly basis, you are able to request a consultation, it will however be chargeable, often around £100.
What Should I Be Wary Of?
Yes, the price may be very appealing; however you should take in to account a number of things when considering surgery abroad. In reality what type of aftercare can be provided, usually you will be given a number for a 24 hour helpline for any complications or worries you may have post operation. You will also need to look at whether the clinic has any types of links with any surgeries within the UK, some clinics do which will really help you if you run into any problems when you have returned home. Other surgeries will offer the chance to see specialist team members on a weekly basis when they visit the UK, this can often be limited however as they may be busy seeing prospective patients, or dealing with other problems. You should also look into what type of support you will receive whilst in another country, you should be provided with a team made up of specialist nurses, a qualified surgeon, dieticians and psychologists, this team will of course support you throughout the process.  It may also be necessary to look into the past successes of the surgery and surgeons, this will help you build up a picture of how your surgery will go, however everyone is individual so every Biliopancreatic Diversion procedure will be different, it will just give you an idea as to how the surgery works and how they deal with and complications.
---
« Biliopancreatic Diversion Cost Biliopancreatic Diversion Surgeons »
WEIGHT LOSS SURGERY INFORMATION
UK HEALTH CENTRES
SELECT A LOCATION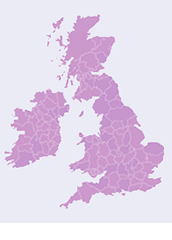 UK Health Centre