Mesotherapy & Carboxytherapy
There is often some confusion in terms of whether carboxytherapy is any different from mesotherapy. The answer is yes there is: carboxytherapy is very similar to mesotherapy in terms of the method, conditions it treats and the outcomes, but the actual method behind obtaining the results is different. Not only this, but an important factor to consider is that carboxytherapy has FDA approval whereas mesotherapy does not as of yet.
Carboxytherapy uses mesotherapy needles, however, instead of a cocktail of vitamins, minerals and drugs; carbon dioxide is injected. Also, rather than being administered into the skin's mesoderm, the carbon dioxide gas is infused into the subcutaneous layer, which lies just underneath the skin.
The carboxytherapy treatment
Similarly with mesotherapy, the carboxytherapy procedure is rapid, effective and requires no downtime. The carbon dioxide gas is used to encourage the blood flow through the skin. This has a number of different effects including increasing skin tone, improving the appearance of cellulite and removing fat in a specific area.
The carboxytherapy procedure has two difference processes of working. Firstly, it acts by making fat cells more delicate and prone to breaking by a method known as 'pressure traumatism'. Secondly, the carbon dioxide stimulates the blood vessels to relax and dilate in the localised area into which it has been injected. This increases the amount of oxygen that can reach the skin as well as increasing the amount of fat reduction that can potentially occur.
This procedure is generally considered beneficial for those who wish to achieve some of the benefits of liposuction but without undergoing invasive surgery. The general results obtained from carboxytherapy are a reduced number of fat cells as well as a more toned skin appearance.
What is carboxytherapy used to treat?
The conditions treated by carboxytherapy include many that are also treated by mesotherapy. This is beneficial to you, as you may prefer the idea of one of the procedures, therefore there is an increased number options available to you in order to achieve the desired results.
The issues that are most commonly resolved using carboxytherapy are:
Reducing the amount of fat in a localised area (this can be done independently or in conjunction with liposuction).
Hair loss (alopecia).
Reduce the appearance of stretch marks.
Medical conditions such as skin ulcers, diabetes-related artery conditions or erectile dysfunction.
Improving the appearance of cellulite
Eliminating scars that have results from acne.
Reducing the appearance of wrinkles.
How often will I require carboxytherapy?
Like with mesotherapy, you will be required to undergo a number of sessions of carboxytherapy in order to achieve the desired results. Another similarity in terms of this is that the exact number of sessions needed depends on the individual patient and the condition they wish to resolve.
In general, if you undergo carboxytherapy for the purposes of fat reduction, there will be around eight to ten sessions required. These will be spread around ten days apart and after this, you will need to attend a few "top-up" sessions throughout the year to maintain the effects.
Typically, if you pursue carboxytherapy for the treatment of cellulite, you will probably need to have somewhere between six and ten appointments. These should be spread around one or two weeks apart. Furthermore, for cellulite improvement, you may wish to complement the carboxytherapy treatment with other techniques such as VelaSmooth massages.
Finally, if you undergo carboxytherapy to reduce the appearance of wrinkles and stretch marks, then you should expect to need to undergo four to six sessions. These appointments will be carried out on a monthly basis.
---
« Mesotherapy & Injection Lipolysis Risks & Side Effects of Mesotherapy »
MESOTHERAPY TREATMENT INFORMATION
UK HEALTH CENTRES
SELECT A LOCATION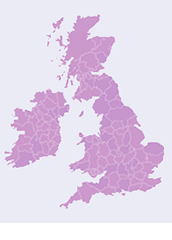 UK Health Centre