Blepharoplasty (Eyelid Surgery) Procedure
Arguably, one of the most immediately noticeable signs of ageing is the development of lines, or loss of elasticity in the skin around the eyes.  Exercise, regular sleep, good diet (and genetics) and no nicotine, alcohol or caffeine can all contribute to a healthy complexion and decrease the visible effects of ageing, especially around the eyes.  Since the skin there is so fine, damage – from lifestyle choices, environment (especially UV damage and pollution) – shows more markedly on this part of the face.  There are various treatments, from detox and facials to botox and surgery, all designed to some degree or other to combat the visible signs of ageing, in the face generally, and around the eyes in particular.  
The Surgical Process
A Blepharoplasty is a surgical procedure performed on the eyelids.  It can be carried out on either the upper or lower lids alone, or both.  In most cases, a Blepharoplasty involves making incisions following natural lines around the eyelids, removal of excess fat and tissue, and a trim and 'tuck' of muscles around the eyes, lifting the skin and improving muscle tone, thereby creating a younger, fresher appearance.  In some instances a Transconjunctival Blepharoplasty may be considered.  In this instance, instead of making an incision into the skin around the eyes, fat is removed from behind the lower eyelid through an incision behindthe eyelid itself.  This decreases the risk of scarring along facial incisions, and although it doesn't allow for the removal and/or tightening of excess skin during the procedure itself, it can be combined with chemical or laser treatments to achieve a similar, if not as long-lasting, faster result. 
Realistic Expectations from Blepharoplasty
Depending on whether the operation is performed for purely cosmetic effect, or for more serious medical reasons, a greater or lesser amount of fat will be extracted.  In most medical instances it is the upper eyelids that are operated on, removing protruding and sagging skin and fat deposits that may interfere with an individual's eyesight.  For cosmetic and aesthetic procedures, it is most effective to treat the lower eyelid, as this can have a more marked and dramatic effect.  However, it is extremely important to be have realistic expectations of what this procedure can achieve; every individual will have a different result, and various factors such as age, lifestyle, condition of the skin and family medical history have to be taken into account when considering a Blepharoplasty.
---
« Preparing for Blepharoplasty (Eyelid Surgery) Blepharoplasty (Eyelid Surgery) Results »
BLEPHAROPLASTY INFORMATION
COSMETIC SURGERY
UK HEALTH CENTRES
SELECT A LOCATION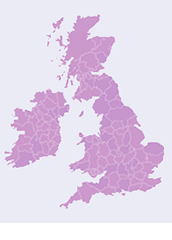 UK Health Centre