Crest Children's toothpaste
Crest has used popular television show, Sesame Street, as a way of appealing to children to encourage them to partake in a good oral health maintenance routine. The toothpaste is bright and colourful and is covered in pictures of the various Sesame Street characters including Big Bird, Elmo and the Cookie Monster.
How is it suited to young children?
Crest Children's toothpaste contains Fluoristat. This is an ingredient that is scientifically proven to fight against the formation of cavities as well as tooth decay and possible gum health issues.

To make the toothpaste appealing to children, the packaging is covered in fun designs. Crest have done so in the hope that it will make children look forward to brushing their teeth more and so forming a regular oral health routine will be easy and enjoyable for the child and parents alike.
The toothpaste has been designed to offer the same level of protection as adult toothpaste, so you can be safe in the knowledge that you child's teeth are being clean to a good level.
Also, many children find the strong mint flavour associated with most normal toothpastes is very overbearing and frequently described as "too hot". This can put the child off brushing their teeth in the future so it is not totally clear if the child is undertaking a good, regular oral care routine when adult supervision is no longer present. To tackle this issue, Crest has given their Children's toothpaste a fruity bubblegum flavour. Hopefully this appeals to the child's tastes and encourages them to adopt a good routine.
Recommended Usage
This toothpaste should be used to brush the child's teeth twice everyday. By doing so you are showing them an oral care routine that they can adopt throughout the rest of their lives to maintain healthy, strong teeth for the future.
---
« Corsodyl Dental Gel Crest Kid's Wild Expressions Liquid Gel »
Guide to Crest Toothpastes
DENTISTRY INFORMATION
UK HEALTH CENTRES
SELECT A LOCATION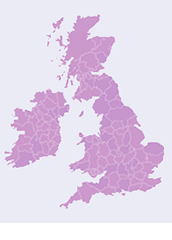 UK Health Centre