Endoscopic Facelift
Suitability – Am I A Candidate?
Endoscopic surgery is, like the mini facelift and thread procedure, a less invasive facelift surgery compared with the traditional method and also has a shorter recovery period and risks are reduced. So if the dangers of cosmetic surgery concern you, this procedure may be more suitable. On the whole, though, the endoscopic facelift is most suitable for those that suffer from less severe facial sagging. It is also particularly useful for those that suffer from localised facial drooping. For instance, it is employed in the mid facelift. This means, however, that if you suffer from severe facial sagging, only the traditional facelift will really make a difference. Do, however, discuss with your surgeon the options that are available, as facelift surgery techniques can be combined.

Fear of Scarring
If you are put off facelift surgery because of the risk of scarring, then discuss with your surgeon what can be done for you using endoscopic techniques: the endoscopic facelift is fantastic for those patients that really fear scarring. This is because its smaller incisions mean there is less visible healing to take place.
The "Scarless" Procedure
Endoscopic incisions are less than one inch long. These incisions can be made around the ear, in the temple, or, as in the mid facelift procedure, under the eye or by the nose. Where the incisions are made depends on what you require of the surgery. After the incisions are made a camera is inserted. The surgeon then works from the camera's image. A similar procedure to the traditional facelift is then followed; fat is removed or reduced and tissue is repositioned. As with the thread surgery though, endoscopic surgery means skin cannot be trimmed – or skin cannot be trimmed as much as would be done in a traditional or lower facelift – and so, if severe skin sagging or jowls are an issue for you, a traditional facelift may be preferable. 
---
« Traditional Facelift Surgery Thread Facelift »
FACELIFT INFORMATION
COSMETIC SURGERY
UK HEALTH CENTRES
SELECT A LOCATION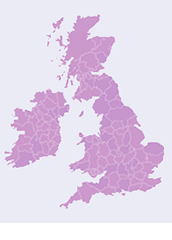 UK Health Centre