Effective Hair Loss Treatment Courses at The Belgravia Centre
There are a number of options available for hair loss in the UK. The Belgravia Centre is one of the UK's leading hair loss clinics.
The Belgravia Centre consists of two state-of-the-art and modern clinics in Central London that offer medically proven treatments for hair loss. Each clinic has its own in-house pharmacy, which produces and supplies medications for hair loss, including various formulations and strengths of minoxidil, and Propecia. The clinic also offers a product range that includes Hair Vitalics hair growth supplement, the HairMax LaserComb and the 'Belgravia' shampoo and scalp products range.
What stands out most, is the clinic's in-house medical laboratory that is dedicated to the production of exclusive forms of minoxidil including an extra-strength 8% liquid with the additives medroxyprogesterone and caffeine, and a minoxidil 10% cream with azelaic acid.
The clinics are currently reported to have around 60 staff members, including a dermatologist, a trichologist, two pharmacists and a number of 'specialist hair loss nurses' and the atmosphere and general care in the centre is reported to be very impressive.
The Belgravia Centre do not offer hair transplants, but on their website they state that 'Results can be as good as, if not better than a hair transplant without the need for surgery'. Their gallery of success stories is provided to back this statement up.
You can contact The Belgravia Centre by calling 0800 077 6666 or by visiting their website www.belgraviacentre.com.
Before & After Images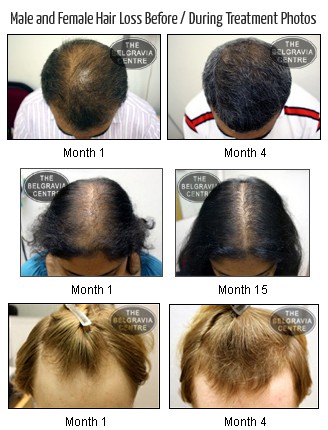 ---