Company Develop Genetic Test for Hair Loss
Wednesday 10th February 2010
The company HairDX has developed a genetic test in which both males and females can be analysed as to their risk of losing their hair. The company has been told that they are now able to begin helping doctors to predict the risk of baldness through genetics. The test should now allow doctors to be able to give a much better indication to the patients as it is a fully personalised test tailored for each individual's risk of developing Androgenetic Alopecia (hair loss).
The test is designed to look at the risk of baldness from the fathers attributes and to combine this with any genetic variants that have been inherited from mother's side of the family. Whilst it is known that hair loss can be from the maternal side of your family, Chief Medical Officer of HairDX, Sharon Keene, emphasizes that the maternal side isn't enough to clarify the risks of baldness fully. This is why the test has been designed to give a better indication by looking at both sides of the genetic family. For example, if a man's father only has a minimal amount of hair loss but tests positive for the variant AR gene the man will have an 80% chance of suffering from hair loss. On the flip side, if a man's father is not bald and tests negative for the same variant AR gene then the man is 90% unlikely to develop hair loss. For women, those who have a low test score are at a high risk of developing androgenetic alopecia, with a high score meaning a low risk.
With androgenetic alopecia being the leading cause of baldness worldwide, HairDX hope to target thousands of people who have the worry that they will lose their hair. By testing them genetically before the hair has begun to be lost, the most effective treatment can be deciphered in the hope that dramatic hair loss can be prevented. It also provides the most efficient of answers compared to other hair loss tests available.
---
HAIR LOSS INFORMATION
UK HEALTH CENTRES
SELECT A LOCATION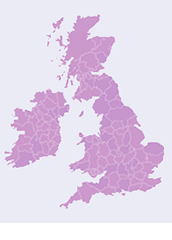 UK Health Centre