Gail Porter Shows Off New Hair Growth
Monday 2nd August 2010
Television presenter Gail Porter proudly showed off a health head of hair today after five years of baldness caused by hair-loss condition alopecia. The celebrity premiered her new locks on GMTV this morning - obviously thrilled that she is now truly recovering from the condition that caused her to completely lose her hair, eyebrows and eyelashes.
Porter, 39, has campaigned to raise awareness about the condition since 2005 - and has become a ambassador for the Little Princess Trust, a charity that gives wigs to children to help them cope with hair loss.
Alopecia occurs when the body's immune system wrongly attacks hair-growth cells and follicles - causing new hair production to stop and existing hair to fall-out. The hair loss problem affects over 4 million people worldwide.
Whilst there is currently no cure for the condition there are a range of successful therapies that may promote hair growth. Most sufferers will, like Gail Porter, experience some hair re-growth as the
---
HAIR LOSS INFORMATION
UK HEALTH CENTRES
SELECT A LOCATION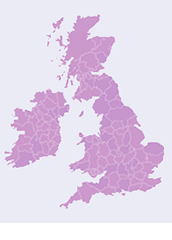 UK Health Centre