Dental Implants or Dentures - Which is Best?
For people who find dentures uncomfortable, there are dental implants. These are extremely effective at replacing single or multiple teeth, but they do cost a considerable deal more than dentures. For an implant to be fitted, titanium screws are drilled into the jawbone in order to support the dental crown.
Should I Get Dentures Or Implants?
Dentures are generally very easy to manage and care for. However, dental implants, unlike dentures, are held firmly in place and so they will be a lot more stable. Implants can be a great deal more expensive than dentures (prices will vary between private practices). If you smoke, your dentist will probably recommend dentures instead, as healthy gums are vital for implants to work. Dentures are also recommended over implants to people who have diabetes, osteoporosis, or who have had chemotherapy.
What Are the Benefits of Implants over Dentures?
Implants are preferred by some as they don't slip and stay firmly in place at all times, meaning that you can eat whatever you like and not worry. They last far longer than dentures (although if wear and tear occurs then replacement crowns will be needed), and existing natural teeth aren't affected. They are also far less complicated to look after, and obviously don't have to be removed at night.
What Are the Disadvantages of Dental Implants?
In 1-2% of cases, the implant will be rejected by the mouth. This is symptom-less but during your first check-up your dentist will notice that the implant has not blended successfully with the jawbone.
How do you Look After Dental Implants?
All that is required is normal brushing and regular flossing in order to maintain a healthy smile. The implants longevity correlates directly with the amount of care that you give them, as well as regular dental check-ups. This will help to protect the surface of the implants from dental plaque.
---
« Bridges or Dentures? Dentures for Large Cavities »
Guide to Dentures
DENTISTRY INFORMATION
UK HEALTH CENTRES
SELECT A LOCATION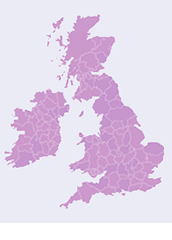 UK Health Centre