Find a Denturist
What Do Denturists Do?
Going to a denturist can save you both time and money, as it means you don't necessarily have to see a dentist (although this is only in specific cases).  A denturist is someone who builds and fits prosthetics for the mouth, including bridges, dentures, caps and
dental crowns
. Many of them choose to work alongside dentists, in case any problems arise, which provides the patient with even more expertise and reassurance. Often their offices are in a building or laboratory serving lots of dentists as the jobs go hand in hand.
The denturist will have the laboratory space to build your dentures out of plastic or porcelain and fire them in a high temperature furnace, which makes them stronger. The denturist will choose the colour of your denture 'teeth' from a colour chart and will have access to materials that can make a realistic smiles to restore your confidence. Once the material is ready a number of electric tools are used to shape the false teeth like drills and lathes. The finishing touches are usually done by hand tool.
Aside from making the actual prosthetics denturists can identify where false teeth are needed and what kind is best for the patient; take imprints of the mouth in order to prepare the dentures and provide aftercare including the fitting and adjustment of your false teeth. They specialise in prosthetics but they have the skills and training required to identify other problems and refer you to a dentist.
What Training do Denturists have?
Denturists will have technical training as a scientific technician and post-technical training in dental sciences, interpersonal skills and clinical skills. In the USA denturists must attend an accredited denturist school to acquire a denturist licence, awarded by the state or province the denturist is located in. In the UK the denturist will also need to have graduated from an appropriate denturist course, lasting two or three years. This qualification usually needs to be backed up by on average four years of experience working as a dental technician. By the time a denturist is ready to start practicing they will have years of experience working with teeth.
Will I Need to see a Dentist as well as a Denturist?
In some cases the denturist will require your treatment plan from your dentist. This does not mean that denturists are only able to make and fit dentures, though. They are trained to recognise any issues that would require a dentist, so if there are none of these problems there is a chance you will only see a denturist. This is unlikely though, as most denturists work alongside dentists. If a denturist does your initial consultation to assess the condition of your teeth and gums they may need to refer you to a dentist for extractions or dental work before they can take an impression and make your dentists. Remember that denturists who work without dentists are highly qualified in their field, and are able to provide check-ups on your dentures, as well as offer adjustments and maintenance advice. If you do only see a denturist though for your prosthetic teeth you should maintain your normal check-ups with a dentist as well, as a dentist has received more training in spotting infections and in monitoring the health of your mouth in general.
Is it Cheaper to Use a Denturist than a Dentist?
Some people may see using a denturist instead of a dentist as cutting out the middle man. You are effectively going straight to the service that the dentist would use once he had taken x-rays and made moulds. This means that private denturists can be cheaper. In the UK they are allowed to work without having supervision of a dentist and can work straight from a dental laboratory where the dentures are made up. This means there are less overhead costs and this saving may be passed on to you. It is likely, however, that you will need to see a dentist and if you go privately the cost may cover appointments with both a dentist and denturist if required. In the USA denturists are not get allowed to practice without a dentist and so you are less likely to receive a lower price. It is important to make the distinction between 'shop front dentistry' - people offering low rate dental procedures which may be dangerous and aesthetically displeasing and denturists who are medical professionals with years of training.
Dentures were originally made by a licensed dentist in his surgery, with the help of laboratory technicians. In some countries where denturists are not widely used this is often the case. As denturists are trained more and more extensively (so they are able to perform some of the roles of dentists such as relining dentures) there has been some backlash from dental professionals. A denturist generally charges less than a dentist, and in countries with privatised healthcare this can be frustrating for dentists. Unfortunately dentistry (particularly prosthetic dentistry) is a business as well as a medical profession and some dentists may feel that denturists are infringing on their roles without having to go through the same amount of training.
---
« Problems with Dentures Partial Dentures »
Guide to Dentures
DENTISTRY INFORMATION
UK HEALTH CENTRES
SELECT A LOCATION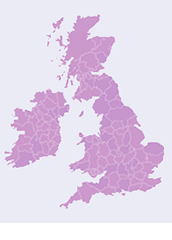 UK Health Centre