Valplast Dentures
Dentures are a type of dental restoration used to replace your natural teeth. They can be used to replace teeth which have been lost for a number of reasons including, tooth decay, gum disease, accident or trauma. Dentures are designed to copy the appearance of your natural teeth and most types are completely removable. You will notice that dentures don't feel exactly the same as your former teeth but modern dentures are becoming ever-more comfortable and aesthetically pleasing.
Dentures are usually broken down into two categories; those that fully replace all your teeth and those that only replace a few of your teeth (partial dentures). Valplast is a partial denture designed to replace some missing teeth whilst being highly adaptable and hygienic.
Missing Teeth
There can be a number of reasons for the loss of teeth but the most common loss is experienced when a patient develops gum disease or periodontal disease. This is usually caused by a dental plaque build up and the resulting bacteria attacking and inflaming your gums. Whilst conventional dentures have traditionally been made from metal bases and acrylic teeth, Valplast dentures make use of a nylon thermoplastic which has several benefits over conventional braces. For instance, there is no metal clasps used in Valplast dentures, making them very light and comfortable to wear. The Valplast denture also incorporates translucent material, which allows your natural gums to show through, giving your teeth a natural appearance.
You will find that Valplast dentures are designed to be highly adjustable and sets are available to replace just a few teeth or a whole set. Valplast can help patients who, due to problems with their jaw bone, can't wear conventional braces. Similarly, those who have allergies to acrylic which is found in traditional dentures, can use Valplast dentures safely. Valplast dentures can also be used for patients who suffer from gum recession. Valplast dentures are sturdy and have become increasingly popular due to their low cost (usually less than a permanent bridge and dental implants).
---
« What Are Flexible Dentures? What is the Denture Fitting Procedure? »
Guide to Dentures
DENTISTRY INFORMATION
UK HEALTH CENTRES
SELECT A LOCATION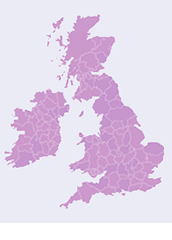 UK Health Centre