E-Swin Home Hair Removal
The E-One is E-Swin's first at home IPL hair removal device for at home use. IPL means that instead of laser technology the product uses intense pulse light which emits bursts of strong light at regular and quick intervals. The E-One has several patents protecting its unique features, and is specially developed to bring the convenience of IPL treatment into a safe and easy to use device that can be purchased affordably for any home. The E-One was developed in France and has recently been made available in the UK for your convenience and has been clinically tested to ensure that it is safe and effective for home use.
Extra Benefits
With the E-One you have the ability to customize the settings so that you can effectively tailor the treatment to suit your hair and skin tone, whether you have light or tanned skin, you ought to be able to achieve the results you are looking for, thanks to the flexibility of the E-One system.
Using the E-One
E-Swin, the manufacturers of E-One have undertaken rigorous clinical testing of the E-One device to ensure that it is safe and comfortable to use, with no irritation or unwanted side-effects for its users. You will no longer have to work around your hair growth: you can wear what you want, when you want, without worrying about the irritation or embarrassment of stubble or hair growth. The manufacturers promise a relatively painless hair removal experience on the majority of the body, with a slight tingle or hot feeling when used on more delicate skin such as the bikini line or facial area, and this was dramatically more comfortable than alternative treatments such as waxing.
How Long Will Results Take?
The effects of the IPL treatment are slightly delayed, and around eight days after treating your skin with the handset your hairs should begin to fall out, and this process could last until around fifteen days after treatment. After this process your skin should feel soft and hair free, but after around forty to sixty days the hairs will begin to re-grow. This should not worry or alarm you, it may take a couple of treatments to achieve a longterm hair-free effect. After each treatment the hairs themselves will become softer, less numerous and will grow more and more thinly. After around a dozen treatments, each treatment being about two months apart, you should see longterm hair-free results of the treated skin.
---
« Using Tria Beauty to Remove Hair Using the E-One Step-by-Step to Remove Hair at Home »
Home Laser Hair Removal
LASER HAIR REMOVAL INFORMATION
UK HEALTH CENTRES
SELECT A LOCATION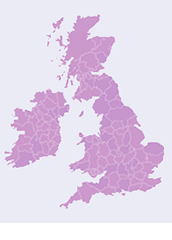 UK Health Centre